THAILAND DAY 1
First day in Thailand! I actually arrived the night before. Prior to Thailand my dad wanted me to stop by Taiwan to visit my grandmother. My Cousin works in Thailand but he was in Taiwan for business. so I decided to tag along with him when he was returning to Thailand. It's always nice to have family in other countries because you'll always have a place to crash :)
When we first arrived it was late and we were hungry so My cousin takes me to a late night spot down the street from his apartment. It was really western, they served 'American style' breakfast but they also had local food as well. I think I got fried rice or something, it was ok but I was craving for some real local food, something off the side of the street and grimmey.
So the next morning as my cousin went to work I was on my own for the first time. Time to explore!
I got out onto the street and the humanity hit me like a pile of bricks. The air was so thick, it reminded me of the heat when I grew up in Taiwan.
My cousin lived in a pretty developed part of town. It was close to the main sky-train and also the underground MRT. When we were walking to his apartment from the skytrain the night before he would point out many apartment building in his neighborhood that was occupied my english expats. So of course the street was filled with pubs, american restaurants, italian pizzerias and fancy hotels.
It was a business day so there weren't much going on. There was motorcycle taxi and local people pushing around food carts.
Not really impressed with the selection of food I kept walking. The weather was intense so I was losing patience. Luck for me I found a entrance to an alley that had several tents filled with locals selling stuff. I went in and walked through the vendors. It was what you'd expect at a local market, bunch of clothes, electronics, and food!. The market was so much bigger than what you'd expect from the outside street. I finally get to the back and it was an open space filled with food vendors. It was right before noon so the tables were still pretty empty. You can see this is the spot because there was no westerners anywhere! A lot of men and women dressed in business attire so you can tell this is a common local lunch spot.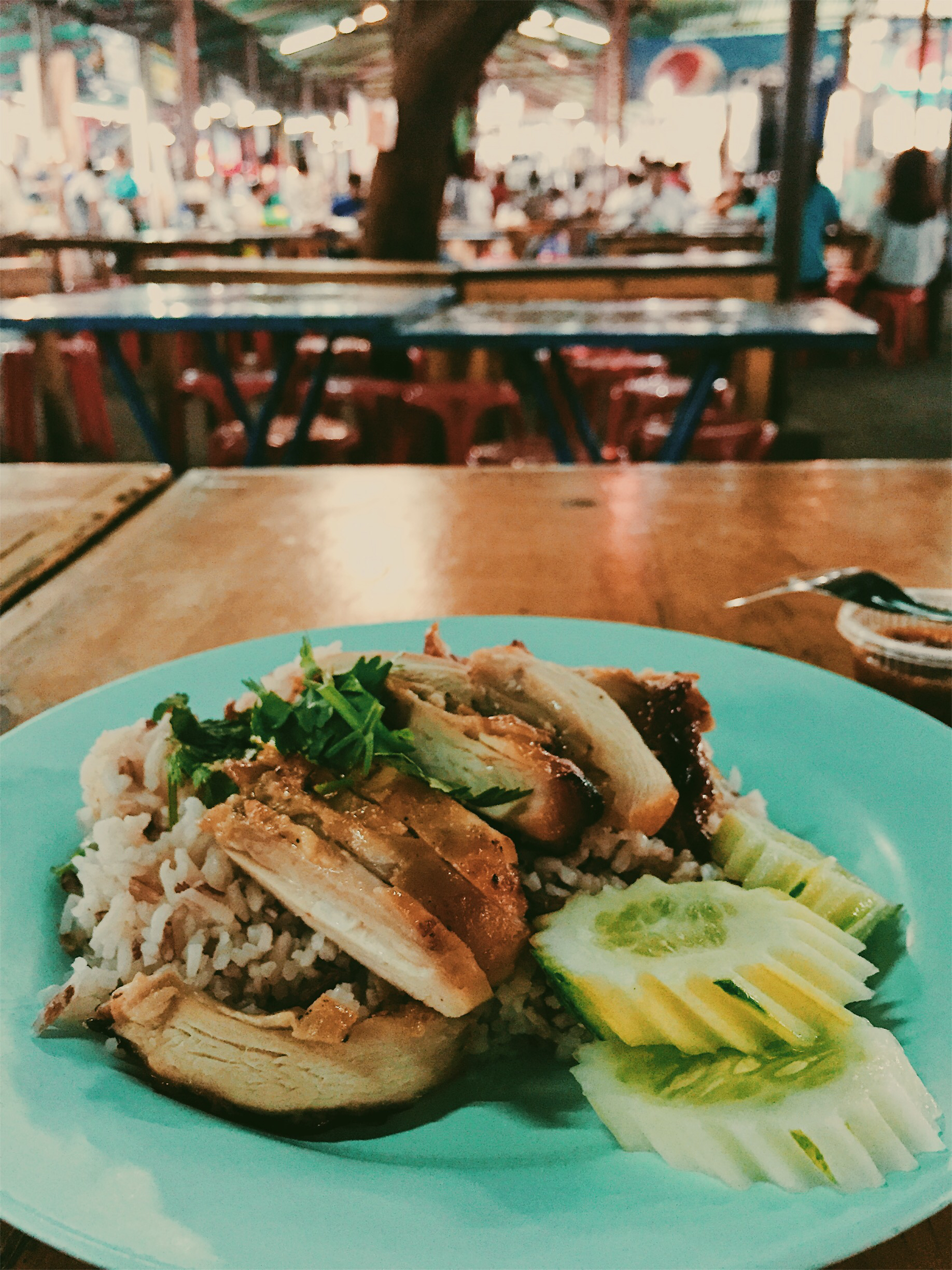 It was amazing finding a local spot to eat but then i realized I can't read any of the signs! So I literally walked through every single food vendor. It was pretty obvious which ones were the good ones by looking at how long the queue was in front of each of them. I eventually found one that had a queue but wasn't very long. I couldn't spoke any Thai so I just pointed at what I wanted. The locals were a little frustrated once they figured out I'm not Thai and I didn't speak their language. Oh well!
I ended up getting a chicken dish, super simple, rice, chicken, some cucumbers on the side and it came was their own hot sauce. I don't remember how much it was but it was definitely under $2 USD.
So that was my first experience exploring Thailand by myself, it was pretty overwhelming when it comes to the language barrier but at the same time it was amazing to eat like the locals and being in Thailand.